DiskDigger works by doing a thorough scan every sector of the media to trace the missing files.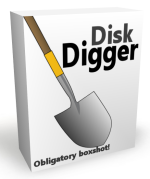 DiskDigger very useful for you when:





You remove one or more photos from your memory card by mistake, and want the files are returned;




You remove one or more photos from memory cards intentionally, but now want it back;




You remove some documents from a USB flash disk, and want it again;




You access the old hard disk that has been reformatted, and want to know what the previous content contained in the hard disk;




You just want to know whether the old photos (or any other file) still exists in the memory card.



There is the latest update from DiskDigger, new features are:



Support for OGG media files to find another (including Ogg Vorbs Audio, Ogg Theora Video, and other media files to OGG format), with a preview of the metadata found in the file.



Support to find another audio

FLAC files

, as well as the ability to preview the album art and other metadata that is found in the file.



DiskDigger Features:

DiskDigger has two operating modes to choose from every time you do a scan disk. The modes are called "dig deep" and "dig deeper". Here is a list of each mode:

Dig Deep:

Undelete files from FAT partition (FAT12, FAT16, FAT32), NTFS, and exFAT.
Filer files with the name and size.
Sort files by name, size, date, and directories.

Dig Deeper:

scan the entire disk to track a specific file type.
File types are supported:
Photos and Pictures
JPG - Images are stored in digital cameras and Web (Joint Photographic Experts Group)
PNG - Portable Network Graphics
GIF - Graphics Interchange Format
BMP - Windows and OS / 2 bitmap image
TIFF - Tagged Image File Format
ICO - Windows Icon
ANI - Windows Animated Cursor
CR2 - Canon RAW image
SR2 - Sony RAW image
NEF - Nikon RAW image
DCR - Kodak RAW image
PEF - Pentax RAW image
DNG - Adobe Digital Negative
SVG - Scalable Vector Graphics
PSD - Adobe Photoshop Image
RAS - Sun raster image
PSP - Paint Shop Pro Image
Thumbcache - Windows thumbnail cache
Document:
DOC - Microsoft Word document (2003 down)
DOCX - Microsoft Word document (2007 to top)
XLS - Microsoft Excel spreadsheet (2003 down)
Xlsx - Microsoft Excel spreadsheet (2007 and above)
PPT - Microsoft PowerPoint presentastion (2003 down)
PPTX - Microsoft PowerPoint presentation (2007 and above)
VSD - Microsoft Visio document
PDF - Portable Document Format
XML - eXtensible Markup Language
HTML - Hypertext Markup Language
RTF - Rich Text Format
WPD - WordPerfect document
WPS - Microsoft Works document
PUB - Microsoft Publisher document
XPS - XML ​​Paper Specification
GIF - Graphics Interchange Format
BMP - Windows and OS / 2 bitmap image
TIFF - Tagged Image File Format
ICO - Windows Icon
ANI - Windows Animated Cursor
CR2 - Canon RAW image
SR2 - Sony RAW image
NEF - Nikon RAW image
DCR - Kodak RAW image
PEF - Pentax RAW image
DNG - Adobe Digital Negative
SVG - Scalable Vector Graphics
PSD - Adobe Photoshop Image
RAS - Sun raster image
PSP - Paint Shop Pro Image
Thumbcache - Windows thumbnail cache
Audio and Video:
MP3 - Audio formats commonly used in digital media player (MPEG Layer 3)
WMA - Windows Media Audio
AVI - Audio Video Interlace
WAV - Wave Audio
MID - Musical Instrument Digital Interface
FLV - Adobe Flash Video
WMV - Windows Media Audio
MOV - Quicktime Video
M4A - MPEG-4 audio
M4V - MPEG-4 video
3GP - Third Generation Partnership video
F4V - Adobe Flash video based on MPEG-4 Part 12
RM - RealMedia video
RMVB - RealMedia video 9variable bitrate)
MKV - Matroska video
MPEG - Motion Picture Experts Group
Compressed Archives:
ZIP - a compression format widely used
RAR - Roshal Archive, used by WinRAR
7z - compression format used by the 7-Zip
GZ - use gzip compression format
SIT - compression format used by StuffIt for Mac
CAB - Microsoft Cabinet archive
SZDD - File compression is made by COMPRESS.EXE from MS-DOS
Other:
ISO - Images of Optical Media, such as CDs and DVDs
EXE - executable file of Windows or MS-DOS
DLL - dynamic link library of Windows or MS-DOS
MDB - Microsoft Access Database (2003 to bottom)
ACCDB - Microsoft Access Database (2007 to top)
XAC - GnuCash data files
KMY - KMyMoney data files
DWG - AutoCAD Drawing
DXF - Drawing Interchange Format
CHM - Microsoft Compiled HTML Help file

Download the latest version of DiskDigger here: http://diskdigger.org/diskdigger.zip
Powered by Qumana
Powered by Qumana